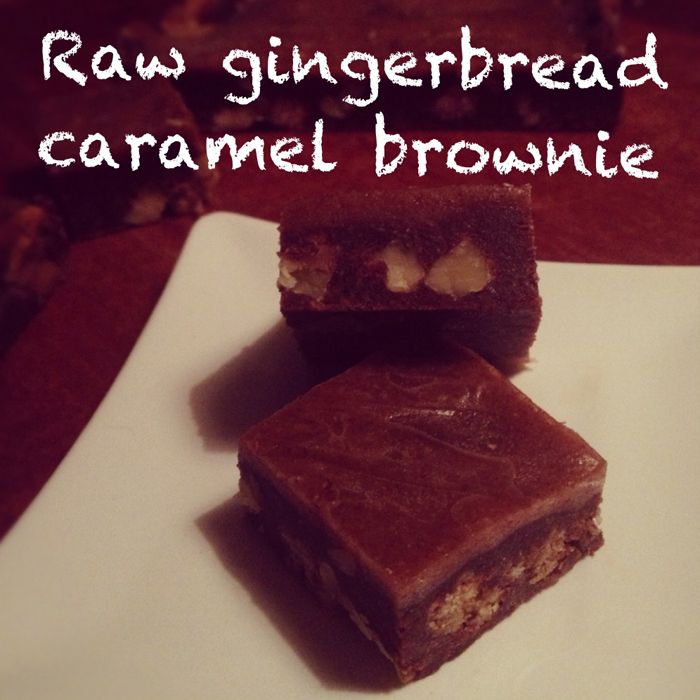 Are you getting into the Christmas spirit yet? I SURE AM! Stockholm is completely covered with snow and more is coming. I love it! And seven days from now I'll be on a train home to my family to celebrate Christmas with good food and lots of love. Aaah! Can't wait. Ten days left and while we wait, let's make raw gingerbread caramel brownies! These are seriously one of the best things I've ever made in the kitchen. The caramel on its own is so good so make sure you make a little extra so you can eat some straight away :)
Raw Gingerbread Caramel Brownie
You need: A food processor with the "s-blade" and a freezer.
Brownie: 
0,5 cup walnuts
0,5 cup almond flour
0,5 cup coconut flour
1 cup dates
3 TBS coconut palm sugar
3 TBS raw cacao
2 TBS soft coconut oil 
1 TSP pure vanilla extract 
1/4 cup chopped walnuts
1/4 cup dried mulberries
Pinch of salt 
_____________________
Pulse the walnuts to a chunky flour in a good processor. Add the remaining ingredients (except the chopped walnuts and mulberries). Process until you have a firm dough that doesn't stick or feels to dry. Add the chopped walnuts and mulberries and mix them in by hand. Place the dough in a plastic lined pan and press it out with your fingers to an even shape. 
Gingerbread Caramel
1 cup soft dates
2 TBS raw almond butter
1 TBS soft coconut oil 
2 TBS gingerbread spices (cinnamon, cardamon, ginger, cloves)
Pinch of salt 
_____________________
Put all of the ingredients in your food processor and turn it on full speed. Let it run for 2-3 minutes. You want the food processor to get slightly warm (but not to warm obviously!) so that the ingredients "melts" together and everything gets gooey and lovely. Turn it of and let it cool if it gets to warm. You know when it's done because you'll have a caramel that taste like heaven! :)
Spread the caramel on top of the brownie and put the whole pan in the freezer for a couple of hours. Cut it into squares and let them parade into your mouth! YUMMIE!! 
mintylemonherbs reblogged this from veganparade