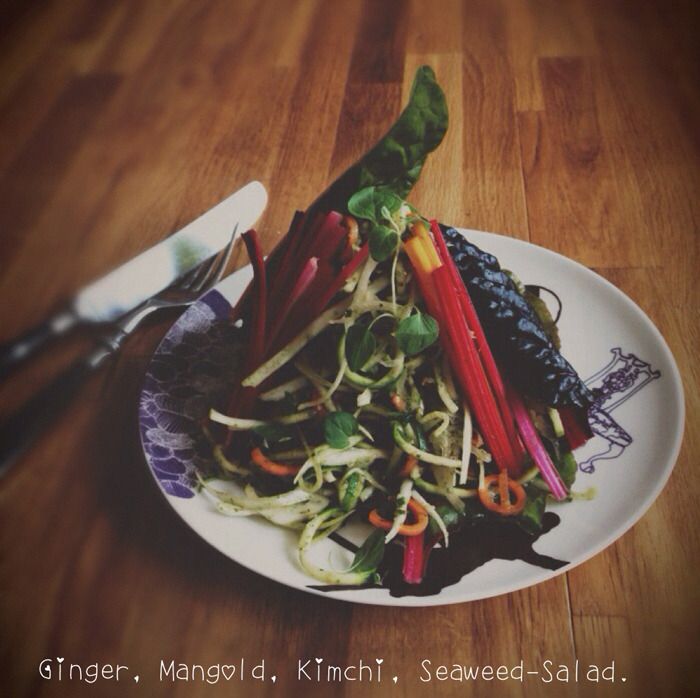 This salad is named after my seaweed loving friend Celia. Unlike her I have some difficulties with seaweed sometimes. I don't like when it's taking over a whole dish. I'm trying REALLY hard to like it though because it's so nutritious. And, success! I actually loved this salad. I hope you'll do the same. Seaweed lover or not! 
(Recipe for one)
In a bowl;
- 1 small spiralized zucchini 
- 1 small spiralized carrot
- 1 inch of finely shredded leek
- Microgreens or other greens
- Chard - julienne the stems and keep the leaves whole
- 0,5 cup of kimchi
- 3 TBS nori flakes (or dulse or any toher algae you prefer) 
- 2 TBS sesame seeds or furikake 
Dressing;
- 2 TBS cold pressed sesame oil 
- 1 tsp apple cider vinegar
- One small garlic - minced
- One small knob of ginger - peeled and minced
- 2 TBS orange juice
- Salt & Pepper
MIX - PLATE - ENJOY! 
sderpession likes this
cherchanglin likes this
veganparade posted this