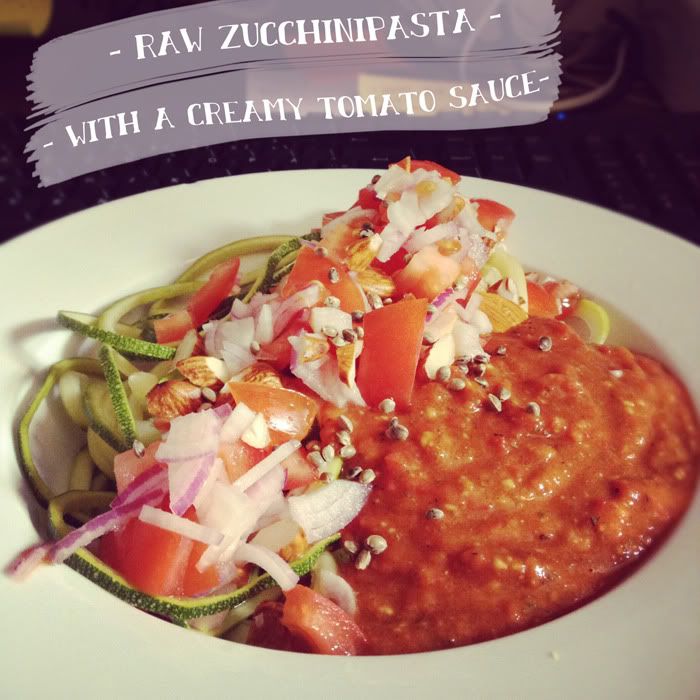 Ever been so hungry you could kill someone with a spiralizer? Here's an easy, quick recipe on a perfect lunch!
Raw Zucchinipasta with a creamy tomato sauce (recipe for one or two people).
- 1 medium zucchini
- 3 medium sized tomatoes cut in 4 + 1 roughly chopped
- 1 red bell pepper, cut in 4
- 1 Avocado, cut in half
- 1 T Olive Oil
- 2 tsp balsamic vinegar
- 1 T Sweet Paprika Powder
- 0,5 tsp Chili Powder (more or less depending on how hot it is)
- 1 T Lemon Juice
- 1 small clove of garlic
- 1 small red onion, finely chopped 
- 10 almonds roughly chopped
- 2 tsp hulled hemp seeds
- Salt and pepper
Run your zucchini through a spiralizer (or if you don't have one - peel it into ribbons with a peeler). Put your zucchini pasta in a bowl and let it marinate with the olive oil, lemon juice and a pinch of salt.
In a food processor: Mix your avocado, bell pepper, tomatoes, balsamic vinegar, garlic, paprika and chili powder and salt and pepper to a creamy sauce. Add in one chopped tomato (or red bell pepper) for texture.
On a plate: Zucchinipasta at the bottom and lots of yummy creamy sauce on top. Decorate with chopped almonds, red onion and hemp seeds.
Bon appetit! Two lives are saved! :D