1. Breakfast at school! Love when that happens. First we flavored our coconut yoghurt that we made earlier this week. I mixed mine with some vanilla and raspberries. Then we layered it with fresh fruit and berries and our buckwheat granola (which had lots of seeds, dried fruits and coconut flakes in it!). Voila! Parfait! This was such a luxurious breakfast! I loove buckwheat granola! 
2. For lunch we made a simple arugula salad in a light lemon dressing with shaved pear and caramelized onions (the one we used on yesterdays sliders!) on top. We also made this fresh and crunchy heirloom tomato gazpacho with a basil sorbet. Eating beautiful refreshing foods like these really makes life GOOOOD!
We also worked on our final projects a bit. I have my MENU ready!! But I wont reveal it until next friday :)) At the end of the day we had cheese tasting!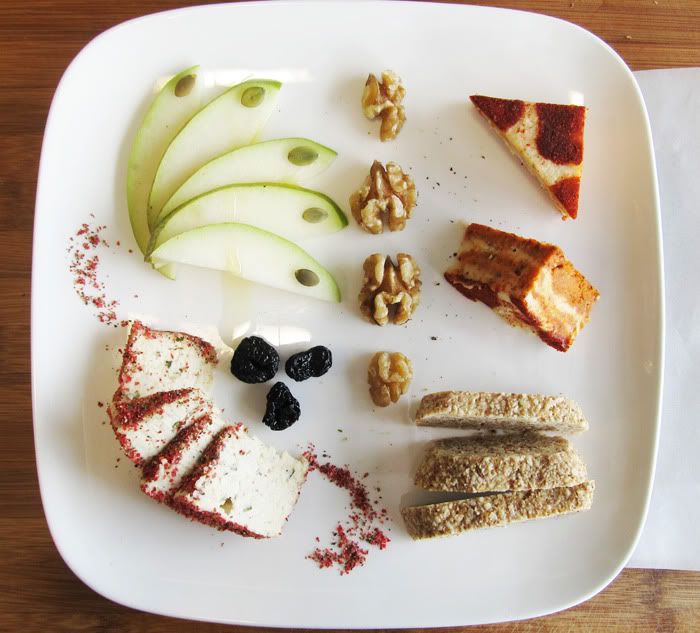 We started making our nut cheeses on monday and yesterday they were fermented and ready for some flavoring. I used a mix of macadamia and cashews for my cheese and it turned out excellent in both texture and flavor! So cheesy! 
I flavored my first cheese with nutmeg, chives and some onion powder and rolled it in a mix of crushed black and red pepper. My second cheese was a layered piece with hot paprika and chili mixed with sweet sweet honey. I think the second cheese was my favorite! It was perfect hot and perfect sweet. Although, I have to admit. I'm not a HUGE fan of cheeses. But these were really easy and fun to make!
Then we all got creative and composed our own cheese platters with our cheeses, our raw garlic bread and suiting fruits, nuts and whatever we thought got along with our cheese flavors. I really loved this exercise! Love getting CREATIVE! Everyone's platters truly looked like art. We had a small individual presentation before everyone got to sample each other's platters. Both my teachers and class mates really seemed to love my cheeses to I was really happy about that!   
(The photo of my platter is taken by my fantastic class mate Celia! Thanks!)  
brawvegan reblogged this from veganparade
iamthegirlwholovesyou likes this
veganparade posted this