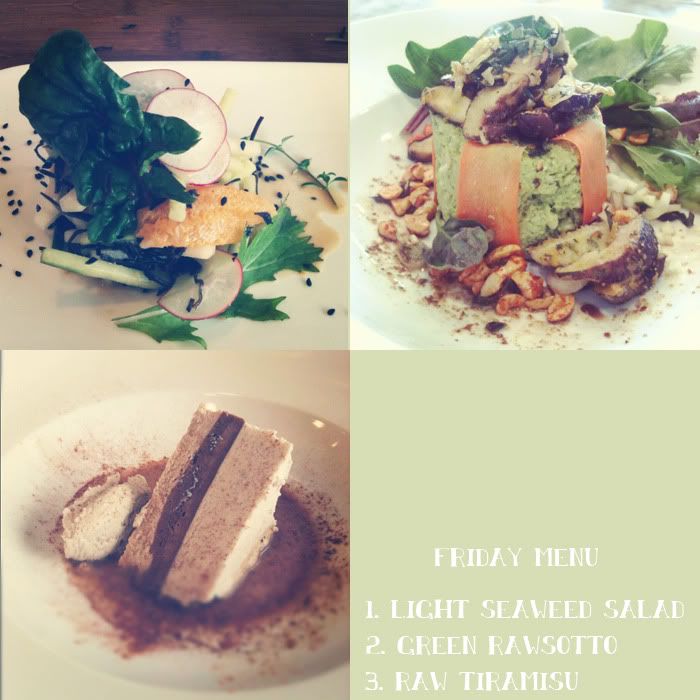 Every day is a good day at the Academy but fridays are always a little special! This friday was no exception. This is what did today;
1. Light seaweed salad with arame seaweed, cucumbers, radishes, pear, orange and mixed greens in a dressing of tahini, sesame oil, tamari and orange juice. I have to admit, normally I'm not a huge fan of seaweed. I think it has something to do with that I've been allergic to EVERYTHING in the sea (fish, shellfish) since I was a kid. The "taste of sea" is therefore something I'm not used to. I don't know. BUT, I actually could eat this salad! I think that the orange really balance out the sea-flavor in a good way.
2. MYSTERY BASKET CHALLANGE. Yes, we had a little competition in class today! In groups of two we had to come up with an entree using a limited selection of ingredients. Me and my partner made a "green rawsotto" of cauliflower rice, a basil pesto and marinated and dehydrated mushrooms, shallot and cashews. I was kind of happy with the result although the texture got a little too mushy and we put too much on the plate. But it was a fun exercise!! 
3. Raw Tiramisu. This 3-layered piece of tiramisu with a coffee foam and chantilly cream was a little bit of heaven I tell ya! 
We also made banana bread and sprouted buckwheat for our granola-making next week. This week has been so much fun! Now - a relaxing weekend. Enjoy yours and see you on monday! 
iamthegirlwholovesyou likes this
veganparade posted this