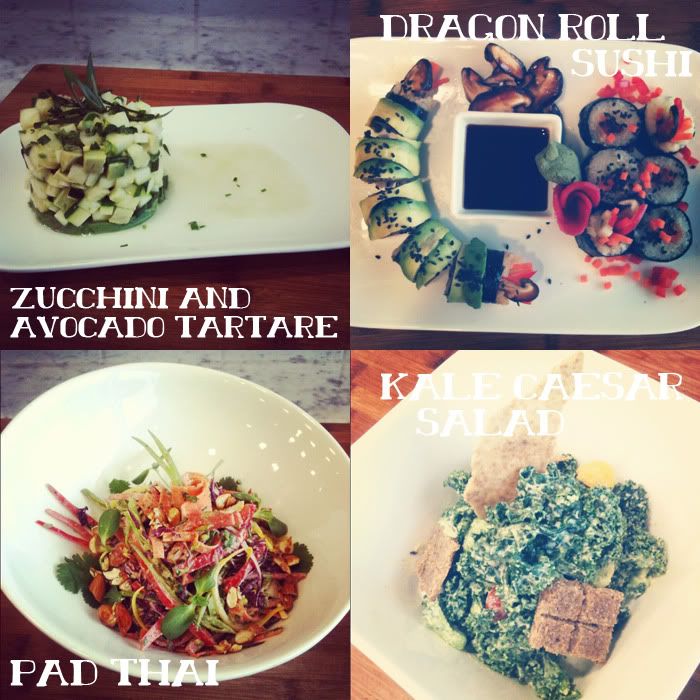 Today we made A LOT of food! 
1. Zucchini and Avocado tartare. A fresh and light starter for any occasion. I loved it!
2. Dragon roll sushi (and ordinary sushi) with jicama rice as well as marinated shiitake mushroom and pickled ginger. Sushi is soo hard to get perfect. Got a small nervous breakdown rolling that dragon roll. Haha! Oh well practice, practice…
3. Pad Thai with candied tamari almonds on top. Do I NEED to say how good this was?! This dish has all that chili/ginger flavor that I looove. 
4. Kale Caesar Salad with rosemary croutons and sunflower parmesan. This will be my dinner for tonight! 
What a great finale of a fantastic week! I already feel like I'm making progress and learning so much. And still there's three weeks left?! Where will this end…
If you have any question at all about the Matthew Kenney Academy I will be happy to answer them! Just drop a comment below. This weekend I will write a little bit about chia seeds (you know how much I love them) and bring you a few recipes as well. AND if you live in Sweden I will have an offer you can't refuse if you're also a big chia fan! So stay tuned and HAPPY WEEKEND! 
eatingtoheal likes this
iamthegirlwholovesyou likes this
veganparade posted this