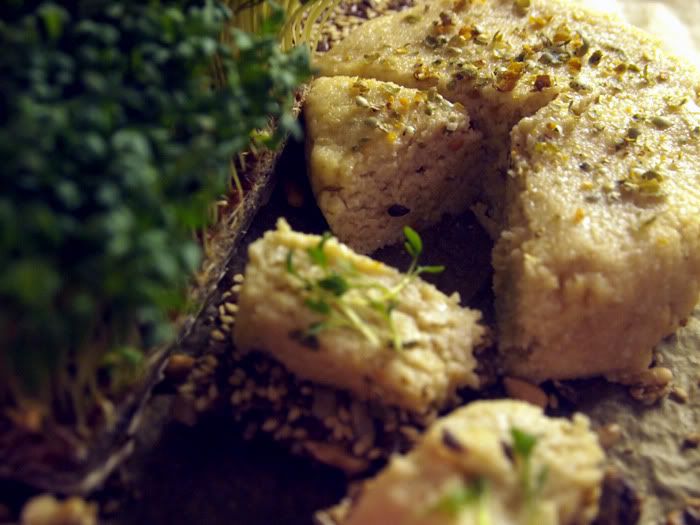 Recipe for one round and soft raw cashew cheese (swedish translation in parentheses) 
- 1 cup of cashews that's been soaked for at least eight hours = over night. (2,5 dl cashewnötter som du har blötlagt i minst åtta timmar = över natten)
- 2 tbsp raw walnut oil or other natural edible oil (2 msk rå valnötsolja eller liknande)
- 1 tbsp nutritional yeast (1 msk näringsjäst/bjäst)
- 0,5 tsp pink himalayan salt (0,5 tsk himalaya salt)
Put all of the above ingredients in a food processor and blend until everything is well combined and smooth. Form a round cheese using your hands and put it on a small plate. Sprinkle with crushed red or green pepper. Let set in the fridge for at least one hour before serving!
(Translation: Mixa alla ingredienser i en matberedare. Forma sedan massan till en rund ost och lägg den på en liten tallrik. Toppa med krossad röd eller grönpeppar. Låt osten vila i kylskåpet i minst en timma innan du serverar!) 
Gluten free nettle crackers
- 0,5 cup of flax seeds (1 dl linfrön)
- 0,5 cup of sunflower seeds (1 dl solrosfrön)
- 0,5 cup of sesame seeds (1 dl sesamfrön)
- 2 tbsp of psyllium seed husk powder (2 msk psyllium fiberhusk)
- 1 tbsp nettle powder (1 msk nässelpulver)
- 1 tsp sea salt (1 tsk havssalt)
- 1 cup of boiling water (2-2,5 dl kokande vatten)
Mix the seeds with the psyllium seed husk, nettle and salt in a bowl using a spoon. Add boiling water and mix again until you have a dough. Press out the dough even and thin thin thin on a baking plate using your fingers. Bake for one hour at 300° F.
(Translation: Blanda alla fröer med fibershusken, nässlorna och salt i en bunke. Häll i det kokande vattnet och rör runt till du har fått en fast deg. Tryck ut degen jämnt och tunt tunt tunt på ett bakplåtspapper. Grädda i en timma på 150° C. Låt knäckebrödet svalna på eftervärmen) 
Cheese and crackers, cheese and crackers. This is going to be me tonight :DD
lingchih28 reblogged this from veganparade